BM3500 Low and Medium Inertia Brushless Servomotor
BML 3500 Low Inertia Brushless Servomotor
High performance AC Brushless  Servo Motor
BM3500  high performance AC servomotor is a new addition to our family of motor products.   BM3500  has one of the smallest footprint in the industry featuring  high energy rare earth magnets and high efficiency magnetic and mechanical design.  The motor is designed for tough industrial servo applications.  BML3500 has low inertia for new high speed machine designs. BMM3500  differs only by having
higher inertia often required for stable operation of older machine and position controllers. BML/M is designed with variety of custom configuration to address the needs of new applications as well as
aftermarket support.  Being powerful and compact, BM series can be used as direct Fit Form replacement for many different motor brands such as  Ametek( MCG), Rockwell International and Parker
to name a few.

BM3500 motors are available with Mechatronic's Systems Servo Amplifiers, such as BSA series.  We often design custom servo amplifiers for cost sensitive applications where only needed functions are
implemented. Please contact our Application Engineering for specific requirements.

All our products are made in USA at our Boston factory. Mechatronics System is committed to to provide fast turnaround for our OEMs and Enduser customers. Motors can be customized to fit your exact needs with tachometers, encoders, resolvers, brakes and gearboxes.
Features & Benefits
Flexible design for OEM applications
14-27  in-Lb(1.5-3NM) Continuous Stall Torque
Lightweight compact package
Precision low speed operation
High torque-to-inertia, torque to weight ration
Rugged industrial construction
Large sealed  ball bearings
Options
Feedback Optical Encoders incremental and absolute
Resolvers
Custom Cables and Connectors
Fail safe Brakes including brakes with mechanical release handle
Gearboxes
Standard Metric IEC72-1  mounting dimensions
NEMA 34 mounting dimensions
Various custom dimensions avaialble
Shaft seal to IP65/IP66 rating
Performance
BML35 Low Inertia Brushless Servomotor
Performance Data
 
 
BML35L1
BML35L2
BML35M1
BML35M1
Max Operating Speed
rpm
5000
3000
5000
3500
Continuous Torque (Tc) Nm(in-lb)
Nm
1.57
3.02
1.57
3.02
in-lb
14.00
27.00
14.00
27.00
Peak Torque (Tp)
Nm
4.4
8.5
4.4
8.5
in-lb
39.3
75.9
39.3
75.9
Continouis Stall current, A (0-peak)
A
5
3
9
28
Peak Current, A (0-peak)
A
14
9.3
6
19
Torque Constant (Kt)
lb-in/Amp
4.57
7.62
4.57
6.53
Nm/Amp
0.52
0.86
0.52
0.74
Back EMF Constant (Ke) L-L peak
V/kRPM
31.28
52.13
31.28
44.69
DC Resistance L-L
ohm
4.53
4.48
3.72
1.54
Inductunce
mH
17
21
43
8
Rotor Inertia (Ja)
KG-M^2
0.000045
0.000077
0.0000133
0.000252
LB-IN-S^2
0.0004
0.00068
0.00118
0.00223
Weight
kg
2.3
3.3
3.4
4.4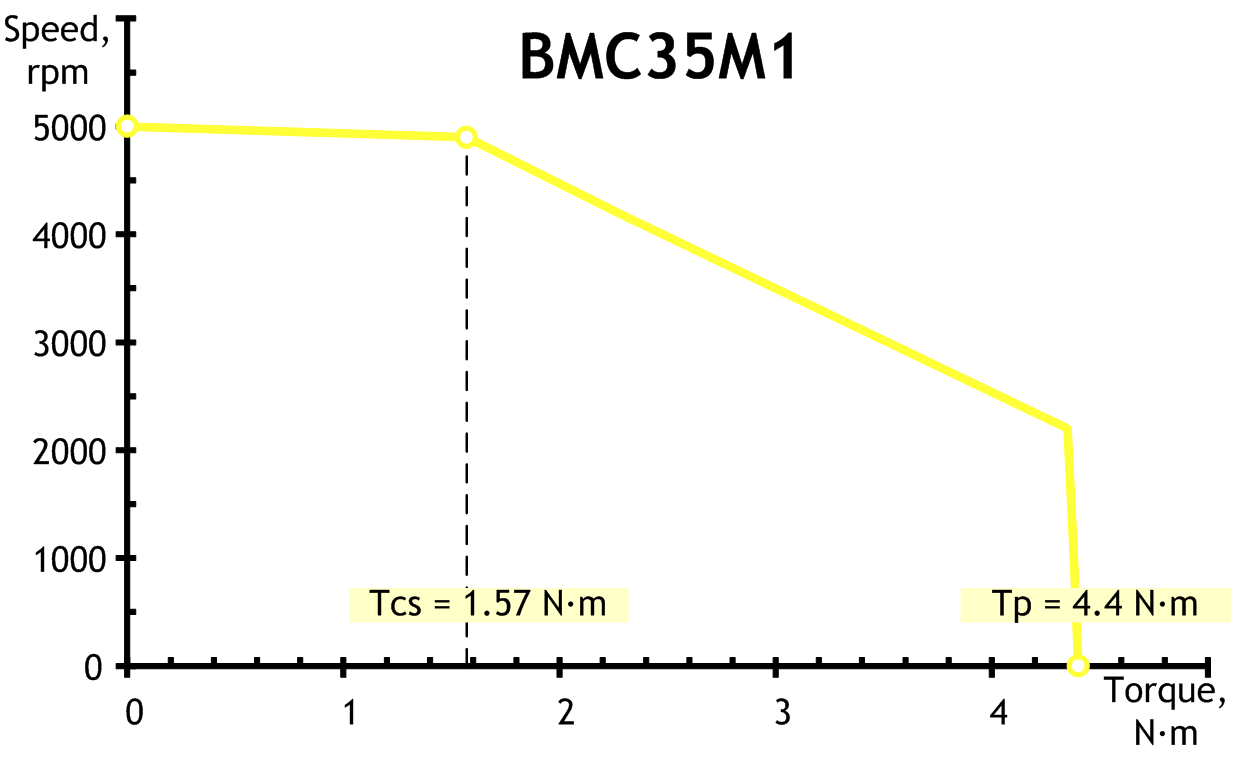 Model Number
Dimensions
| | | | | | | | | | | | | | |
| --- | --- | --- | --- | --- | --- | --- | --- | --- | --- | --- | --- | --- | --- |
| MODEL | FRAME SIZE | LA | LB | LC | AA | BB | CC | DD | EE | FF | GG | HH | JJ Keyway Depth |
| BMC35MA1 | 100 mm | 90.9 mm | 120.4 mm | 51.0 mm | 100.0 mm | 7.0 mm | 80.0 mm | 9.9 mm | 2.87 mm | 40.0 mm | 16.0 mm | 5.0 mm | 3.0 mm |
| BMC35MA2 | 100 mm | 116.3 mm | 145.8 mm | 76.4 mm | 100.0 mm | 7.0 mm | 80.0 mm | 9.9 mm | 2.87 mm | 40.0 mm | 16.0 mm | 5.0 mm | 3.0 mm |
| BMC35MB1 | NEMA 34 | 3.58 in | 4.74 in | 2.01 in | 3.875 in | 0.22 in | 2.875 in | 0.33 in | 0.070 in | 1.29 in | .500 in | .125 | .070 |
| BMC35MB2 | NEMA 34 | 4.58 in | 5.74 in | 3.01 in | 3.875 in | 0.22 in | 2.875 in | 0.33 in | 0.070 in | 1.29 in | .500 in | .125 | .070 |
One Westinghouse Plaza, Boston, MA 02136 • 617-364-0400 • Toll free: 800-224-4712 • www.potomacelectric.com
| | | | | | | | | | | | | | |
| --- | --- | --- | --- | --- | --- | --- | --- | --- | --- | --- | --- | --- | --- |
| MODEL | FRAME SIZE | LA | LB | LC | AA | BB | CC | DD | EE | FF | GG | HH | JJ Keyway Depth |
| BMC35MA1 | 100 mm | 90.9 mm | 120.4 mm | 51.0 mm | 100.0 mm | 7.0 mm | 80.0 mm | 9.9 mm | 2.87 mm | 40.0 mm | 16.0 mm | 5.0 mm | 3.0 mm |
| BMC35MA2 | 100 mm | 116.3 mm | 145.8 mm | 76.4 mm | 100.0 mm | 7.0 mm | 80.0 mm | 9.9 mm | 2.87 mm | 40.0 mm | 16.0 mm | 5.0 mm | 3.0 mm |
| BMC35MB1 | NEMA 34 | 3.58 in | 4.74 in | 2.01 in | 3.875 in | 0.22 in | 2.875 in | 0.33 in | 0.070 in | 1.29 in | .500 in | .125 | .070 |
| BMC35MB2 | NEMA 34 | 4.58 in | 5.74 in | 3.01 in | 3.875 in | 0.22 in | 2.875 in | 0.33 in | 0.070 in | 1.29 in | .500 in | .125 | .070 |
One Westinghouse Plaza, Boston, MA 02136 • 617-364-0400 • Toll free: 800-224-4712 • www.potomacelectric.com