MDS Integrated Motor-Drive
MDS Integrated Motor-Drive
MDS (MOTOR DRIVE SYSTEM) FAMILY OF AC BRUSHLESS MOTOR AND DRIVE ELECTRONICS IN A SINGLE NEMA 56 PACKAGE
Mechatronics Systems Developed the MDS Family  To Address The Growing Marketplace Need for improved Variable Speed Drives.
MDS combines a High Performance motor and drive in a single compact package.  MDS has  significantly small footprint than AC Induction  or DC brush motors  of the same power output.

This is because MDS  is much more efficient than the AC Induction Motor/Variable Speed Inverter combination. It also offers superior Energy efficiency and Torque, and provides high performance at low speed.
MDS is the first choice to replace DC Brush motors and AC Induction motors  in new and existing applications.  MDS provides the performance of a Brush motor while avoiding Brush motor problems of large size, brush maintenance and inability to operate at high speeds.
MDS is ideal for Variable Speed DC and AC Induction motor applications and processes.  And for new applications, you will appreciate the small footprint, ease of wiring, high Torque, Energy efficiency and excellent velocity control at low speed.
Smart Conveyors, Robotic Vehicles, Centrifuges, Metering Pumps, Mixers, Linear Actuators, Small Power CNC Spindles and Plastic moldings — MDS is suitable for all of these applications and more.
Features & Benefits
 Bluetooth for easy set up,  Ethernet Modbus  TCP/IP   Communication.


Command and I/O functions by PC or PLC

Programmable Inputs and Outputs

Start, Stop, Forward, Jog standard I/O functions

Analog command inputs: 0-10V, 4 -20mA

Torque, Velocity and Position Modes of Operation

Digital Drive Electronics

Heavy-duty sealed ball bearings

5/8-inch NEMA cold rolled steel shaft

Standard 1800 RPM speed

115V AC and 230V AC three Phase Input

3 Standard frame lengths with rated output up to 3HP continuous
Options
Speed up to 5000 RPM

Dynamic Brake with Power resistor

EtherCat communication


Operation from 24 and 48 volts for Battery Applications

Metric  dimensions


Custom Mounting dimensions

Electrical Brake

Output Gearbox

IP66- IP67  protection level

Stainless Steel body FDA food grade compliant
Specification
Model

MDS05/MCS1

MDS2/MCS2.5

MDS3

Output Rating

Output Power

HP

0.5/1

2/2.5

3

KW

0.38/0.745

1.5/1.8

2.2

Input Rating

Rated Voltage/ Frequency

Single/Three Phase 115/200/208/220/230V AC 50-60Hz

Voltage/Frequency Tolerance

Voltage: ±10% Frequency: ±10%

Length (inch [mm])

5.5 [140]

6.5 [165]

7.5 [191]

Weight (lb [kg])

9.7 [4.4]

13.5 [6.2]

19.5 [8.9]
Control Characteristics

Control System

Torque Control Mode

Velocity Control Mode

Position Control

Rated Speed

0 - 5000 RPM

DC Braking

Built in braking circuit

Acceleration/
Deceleration

0.1 – 30 seconds (linear or nonlinear profile)

Operation Specification

Inputs

Digital

 

5 inputs 5-24V DC internal pull up resistor 20K

3 inputs are used for Forward, Reverse and Jog

2 are programmable by the user

Pull input low to common to Activate Motion

Speed Command

 

 

4-20mA current input

DC Potentiometer or signal 0-5V DC

Digital Pulse train 5-5000HZ

Digital encoder in quadrature. Built in Line Driver receiver

Outputs

Programmable Output

5-24V DC Open collector output. Built in pull up resistor 20K

Analog Output

0-5V DC 10 mA User's defined

Operating Functions

Torque, Speed, Position Mode, Linear and S-curve acceleration, High performance PID loops, Start, Stop, Jog, Adjustable acceleration/deceleration, Adjustable current limit

Protective Functions

Overvoltage, Thermal protection, Overcurrent protection, Torque limiter

Operator Interface

Hardware (using I/Os)

Jog, Forward, Reverse, Stop

Network Control

USB, RS485, Ethernet

Environmental

Ambient Temperature

-10°C – 40°C (14°F to 104°F)

Storage Temperature

-20°C to 60°C (-4°F to 140°F)

Ambient Humidity

20-90%

Vibration

9.8m/s 2 (1G) less than 10Hz, 5.9m/s 2 (0.6G) 10 to 60Hz

 

Installation Location

Altitude 1000M or lower above sea level, keep from corrosive gas, liquid and dust

Options

Ethernet Interface, MODBUS RS485, Custom speed torque characteristics, Mechanical gearbox, Mechanical brake, Metric mounting, Custom packaging.

Conformity

CE

Low−Voltage Directive (73/23/EEC) EMC Directive (93/68/EEC)

Approvals (Pending)

UL 508C

Power Conversion Equipment
Performance
Please contact our Application Engineering for specific model. MCS is designed to tailor its performance to various models and options.
Model Number
Motor Control System (MDS) Model Numbering
MDS POWER
AC  INPUT VOLTAGE
MECHANICAL CONFIGURATION OPTIONS
COMMUNICATION
ELECTRICAL OPTIONS

MDS05

1GB

01

01

XX

0.5HP
1HP
1.5HP
2HP
2.5HP
3HP

1 — single  phase 115V
2 — single  phase 230V
3 — three phase 230V

G — GEARBOX
B — BRAKE

01 — NEMA 56
02 — NEMA56C
feet mount

Consult factory for  various options

0 — Manual Control

1 — Ethernet Modbus TCP/IP

3 — EtherCAT

Consult factory for various options
---
EXAMPLE:  MDS1 - 3 - 02 - 0 - XX
MDS UNIT: 1HP, -  Three Phase 230V AC, No gearbox/brake, - NEMA  56C, - Manual control, - No Electrical options
Dimensions
MDS Mechanical Dimensions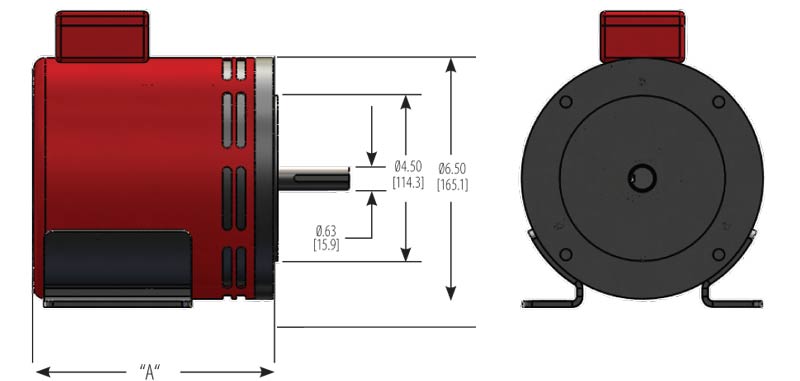 MCS DIMENSIONS

MODEL

MDS05

MDS1

MDS1.5

MDS2

MDS3

HP [Kw]

0.5 [.37]

1 [.75]

1.5 [1.12]

2 [1.49]

3 [2.24]

"A" inch [mm]

5.5 [140]

6.5 [165]

7.5 [191]
Documents
| | | | |
| --- | --- | --- | --- |
| # | Name | Type | Size (MB) |
| 1. | MDS Integrated Motor-Drive Flyer MDS_Flyer.pdf | PDF | 2.5 |
| 2. | MDS Integrated Motor-Drive Specification Booklet MDS Family.pdf | PDF | 0.8 |