BPS Bus Power Supply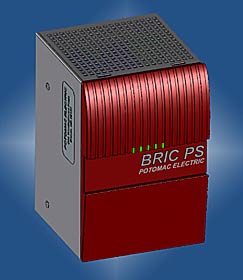 Brick  DC  Bus Power Supply
Brick  DC  Bus Power Supply
Most  smaller size(under 15A continuous current)  servoamplfiers require  DC BUS and 24V DC logic inputs. Machine builders
often  design their own.   Brick PS  eliminates this need and will save OEMs time and money, so engineers can  focus on more important tasks.
Brick PS is a multiaxis Power Supply module designed to deliver DC BUS and 24V DC logic to 1-4 servoamplifiers.
Low cost compact package, yet powerful module Brick conveniently delivers  DC BUS  power,  24V DC logic power and built in Shunt Regulator ( "Craw bar").

Features & Benefits
115/230V AC  Power input Single phase fuse protected
Four independent  170V DC DC BUS outputs, 20A total current
Four independent 24V DC outputs, 1A current
Shunt Regulator to absorb servomotor energy during regeneration, 300W
Convenient Phoenix connectors for each of the axis
Easy to see LEDs to indicate the mode of operations
Standard DIN rail mounting
Options
Custom power rating and packaging per OEM specification
Specification
BRIC Power Supply
Model
BPS-115
BPS-230
Input
115VAC (50/60Hz)
230VAC (50/60Hz)
DC BUS output four channels
165VDC
315VDC
Logic Power output four channels
24VDC
Shunt Brake resistor on-level
200VDC
350VDC
Outputs:
4 connectors DC 160/310Vdc (Summary 20Amp)
 
4 connectors DC 24Vdc (Summary 1Amp)
Internal DC/DC converter with 50-60Hz transformers means high reliability and stability, low EMC level.
Internal power resistor 50Watts for bus overvoltage protection.
Outputs/Indicators:
| | | | |
| --- | --- | --- | --- |
| Function | Condition | Output | LED indicator |
| «Overheating» | +80C degrees/ 176F degrees | + | + |
| «Main power On» | 160Vdc | + | + |
| «Logic power On» | 24Vdc | + | + |
| «24Vdc short circuit» | Short circuit | + | + |
| «Power resistor On» | Resistor turn on | - | + |
All outputs are Open Drains up to 30Vdc, 200mA.
Dimensions