M3500 Brushless Motors
M3500 Motor with gearbox
High Performance  AC Brushless Motors Series
Mechatronics Systems developed M3500 series for use in precision servo applications.
Advanced 3-D FEA helped   our engineer to optimize both magnetic and mechanical design
resulting in smallest package on the market.
M3500 motor has high torque to inertia ratio, rugged design, high quality and ease of customization for various applications.
Features & Benefits
Standard size 100mm  or NEMA 34 Interface
Rated Stall Torque up to 30 in-lb
High energy magnets and state of the art stator winding design
High Torque, low inertia ( For high inertia product see MHI3500 Series)
Integrated rugged feedback devices
Smooth and quiet operation
Rugged and Reliable: large bearing, high temperature windings
Options
Flexible design ready for OEM applications:
Custom bearing
Shaft sizes and mechanical interface
Oversized bearings
Custom windings
IP65, IP67 sealing
Resolver, Hall Sensor and  Encoder feedback devices
Dimensions
BMC 3500L
Model
Frame
size
LA
LB
LC
AA
BB
CC
DD
EE
FF
GG
HH
JJ
keyway
depth
BMC-3500L-01-M
100 mm
65.5 mm
95.0 mm
25.6 mm
100.0 mm
7.0 mm
80.0 mm
9.9 mm
2.87 mm
40.0 mm
16.0 mm
5.0 mm
3.0 mm
BMC-3500L-02-M
100 mm
90.9 mm
120.4 mm
51.0 mm
100.0 mm
7.0 mm
80.0 mm
9.9 mm
2.87 mm
40.0 mm
16.0 mm
5.0 mm
3.0 mm
BMC-3500L-01-N
NEMA 34
2.58 in
3.74 in
1.01 in
3.875 in
0.22 in
2.875 in
0.33 in
0.070 in
1.29 in
500 in
.125
.070
BMC-3500L-02-N
NEMA 34
3.58 in
4.74 in
2.01 in
3.875 in
0.22 in
2.875 in
0.33 in
0.070 in
1.29 in
500 in
.125
.070
BMC 3500M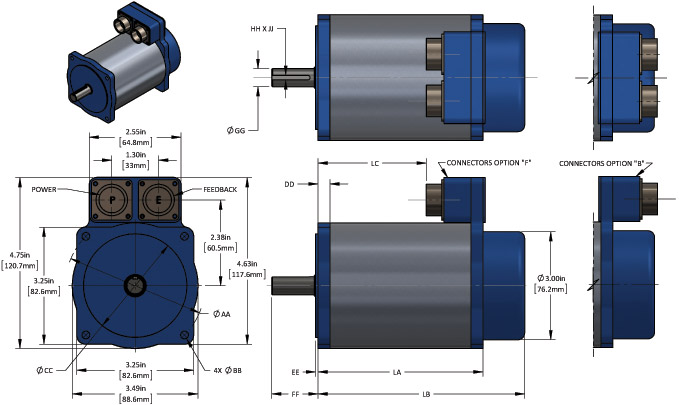 Model
Frame
size
LA
LB
LC
AA
BB
CC
DD
EE
FF
GG
HH
JJ
keyway
depth
BMC-3500L-01-M
100 mm
90.9 mm
120.4 mm
51.0 mm
100.0 mm
7.0 mm
80.0 mm
9.9 mm
2.87 mm
40.0 mm
16.0 mm
5.0 mm
3.0 mm
BMC-3500L-02-M
100 mm
116.3 mm
145.8 mm
76.4 mm
100.0 mm
7.0 mm
80.0 mm
9.9 mm
2.87 mm
40.0 mm
16.0 mm
5.0 mm
3.0 mm
BMC-3500L-01-N
NEMA 34
3.58 in
4.74 in
2.01 in
3.875 in
0.22 in
2.875 in
0.33 in
0.070 in
1.29 in
500 in
.125
.070
BMC-3500L-02-N
NEMA 34
4.58 in
5.74 in
3.01 in
3.875 in
0.22 in
2.875 in
0.33 in
0.070 in
1.29 in
500 in
.125
.070