M3000 Brush Motors
M3000  series DC  Brush Motor
High-performance DC Brush Servo Motor
The M3000 (3-inch diameter) is a line of DC brush servomotors. The M3000 utilizes high-energy rare earth magnets and is designed for tough industrial and military applications.
The M3000 features a compact size, power density, and high starting and continuous torque.

The use of rare earth permanent magnets allows the motors to be much smaller than motors with ceramic magnets for the same power. Thus, the M3000 works very well as an aftermarket field replacement
for virtually every brand of servomotor. If you are an OEM or a large end-user looking to support the field, the M3000 is the solution. For new applications, the M3000 offers higher torque-to-inertia and torque-to-weight ratios than ceramic or samarium cobalt designs. Low cogging is achieved by a skewed lamination design that provides smooth rotation at near-zero speeds.

The M3000 motors are made in the USA at our Boston plant. Motors can be customized to fit your exact needs with tachometers, encoders, resolvers, brakes, and gearboxes. Mechatronics Systems is committed to providing a fast turnaround whether you need one piece or a thousand.

A large number of M3000 servomotors have been installed in CNC machine tools, paper, plastic, radar and antennas, textile, packaging, as well as military applications.
Features & Benefits
5-20 In-Lb Continuous Stall Torque
Lightweight compact package
Precision low-speed operation
High torque-to-inertia, torque to weight ration
Rugged industrial construction
Integrated brush holder allows for IP65 rating
Constant pressure brush mechanisms improve brush and commutator life
Large, shielded, or sealed  ball bearings
Options
Premium performance tachometers (3% avg-to-peak ripple)
Tachometer sensitivities from 1-15V DC/1000 RPM
Optical Encoders
Resolvers
Custom Cables and Connectors
Fail-safe Brakes
Gearboxes
Metric mounting dimensions
IP65 Sealing
Performance
M3000 FAMILY DC Servomotors
Performance Data
Motor Partners
Symbols Units
M3100
M3200
M3300
A
B
A
B
A
B
C
Horsepower
HP Rated
HP
147
74
491
275
5188
275
926
Kilowatts
KW Rated
KW
110
55
366
205
3870
205
691
Max Operating Speed
N Max
RPM
3000
1500
5000
2800
2800
1400
5450
Cont. Torque (stall) @ 40°C amb
TC
oz-in
50
50
100
100
187
198
172
N-m
0.35
0.35
0.7
0.7
13.2
1.4
1.21
Current @ cont. torque
IC
amps
5.8
3.1
5.8
3
5.6
6.1
5.6
Peak Torque
TP
oz-in
100
100
200
204
374
396
344
N-m
1.05
1.05
2.1
2.1
39.6
4.2
3.63
Current @ Peak torque
IP
amps
11.6
11.6
11.6
6
11.2
12.2
11.2
Max Terminal Voltage
Vmax
Volts
90
90
90
90
90
90
90
Torque Sensitivity ± 10%
KT
oz-in/A
8.5
15.6
17.2
34
33.4
32.4
30.7
N-m/amp
0.06
0.11
0.12
0.24
2.35
0.22
0.21
Back EMF Constant
Kv
V/K RPM
6.27
11.495
12.5
25.08
245.58
22.99
21.945
DC Resistance ± 12%
RT
ohms
0.25
0.5
1
4
1.35
5.48
0.53
Inductance ± 30 %
LM
MH
0.4
0.8
0.9
3.5
1.8
6.9
0.72
Rotor Inertia
JM
oz-insec2
0.01
0.01
0.023
0.023
0.033
0.033
0.033
Kg-m
0.0001
1E-05
0.00016
0.00016
0.00023
0.00023
0.00023
Weight
WT
lb
3
3
5
5
6.4
6.4
6.4
Kg
1.36
1.36
2.27
2.27
2.91
2.91
2.91
Tachometer Parameter 3% ripple pp at 1000 RPM. 2.6k Min load resistance
Voltage Sensitivity ± 10%
KG
V/RPM
3,7,15 Volt tachometer winding available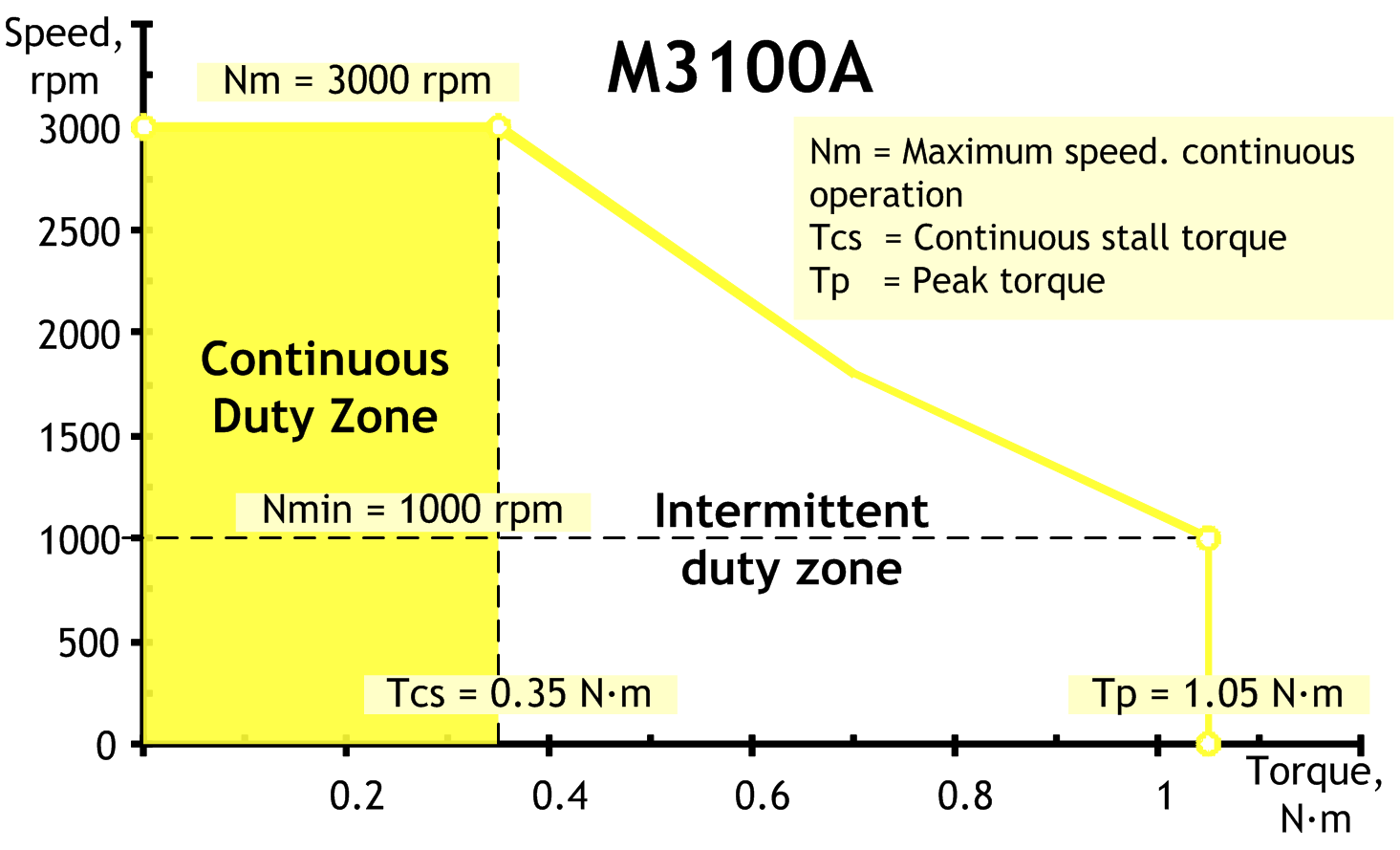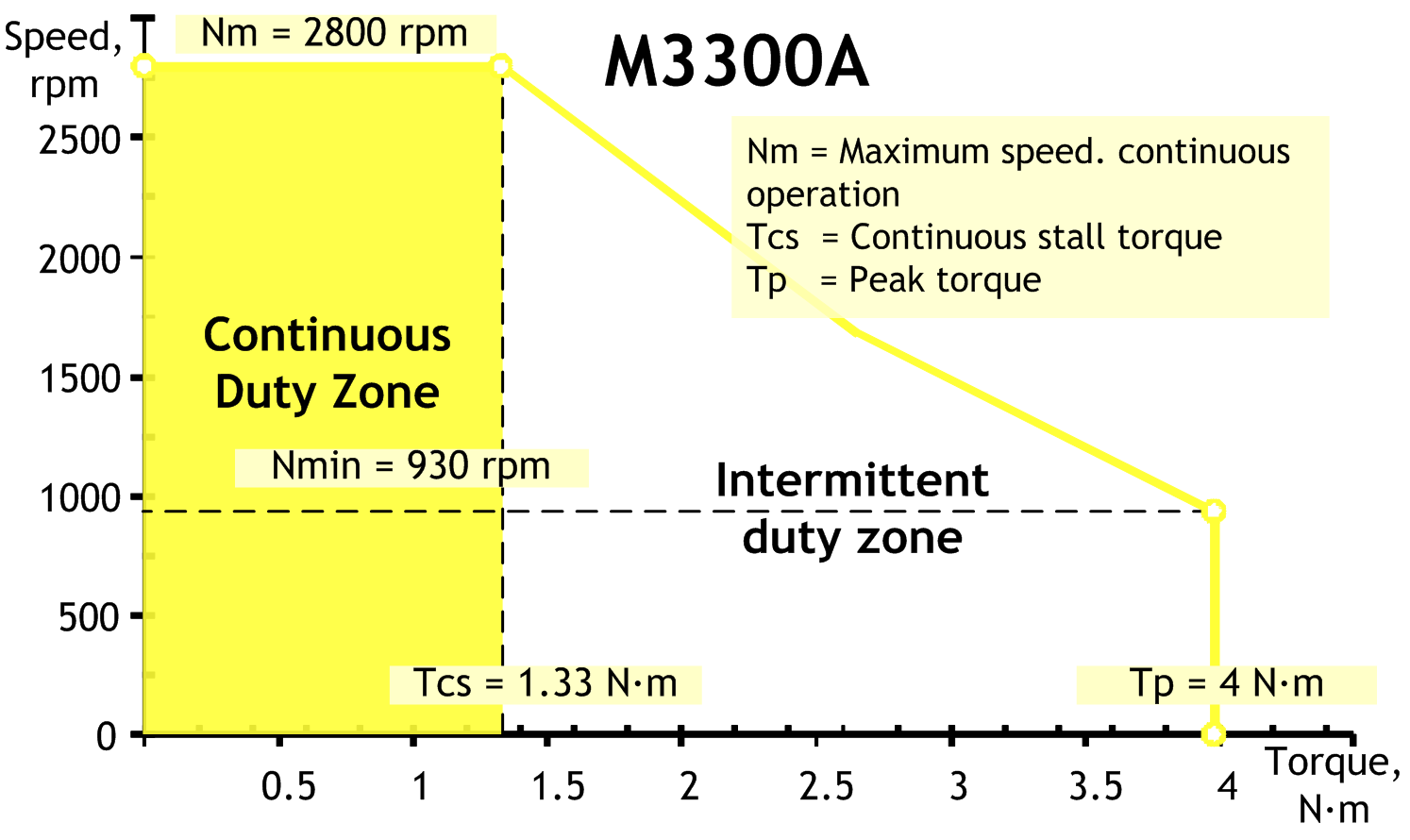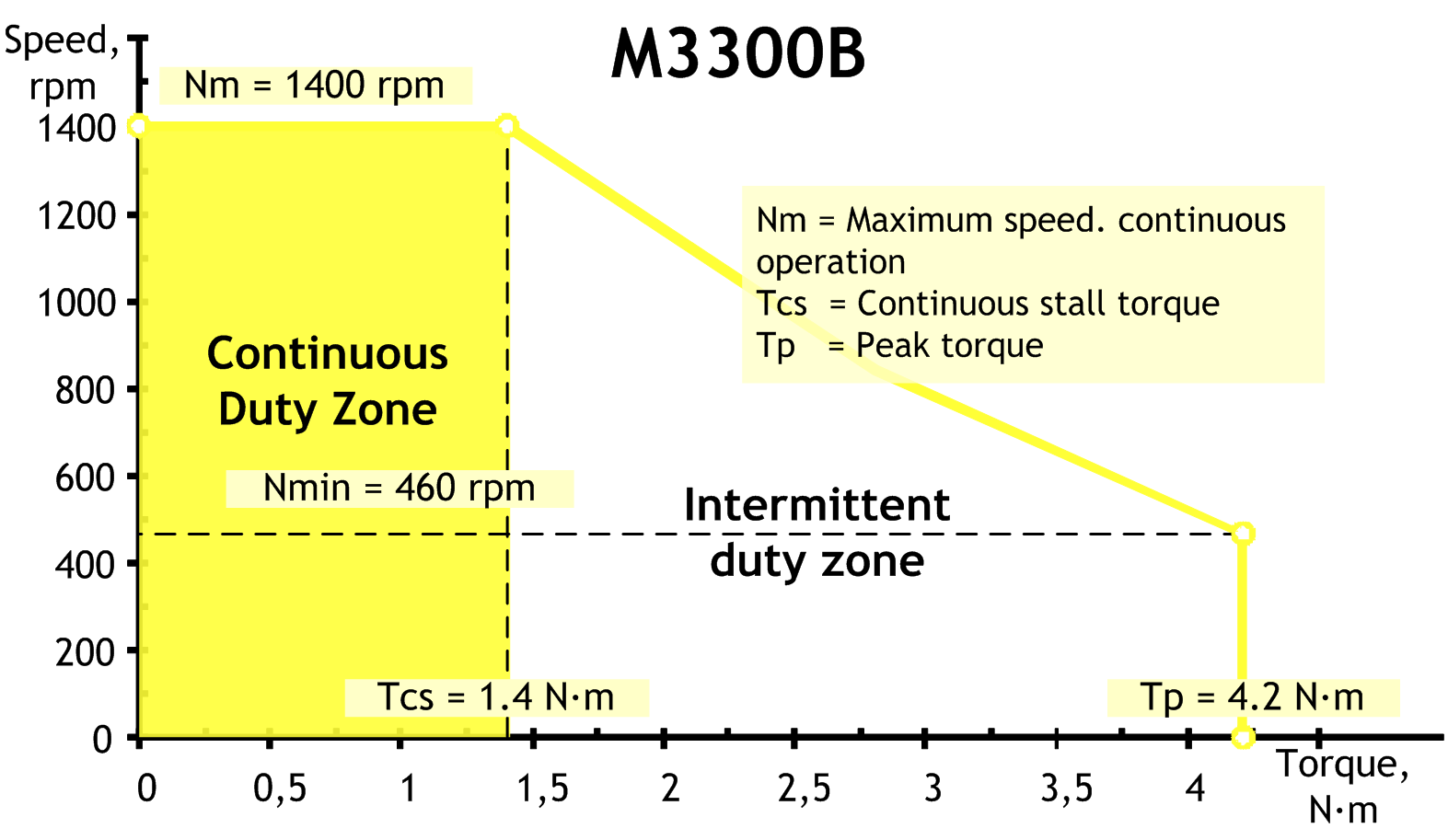 Model Number
Dimensions

Description of motor
Type
3100
3200
Servomotor
3.00
5.10
Servomotor with tachometer
3.90
7.15
Servomotor with encoder
3.90
7.15
Servomotor with tachometer & encoder
4.75
7.15